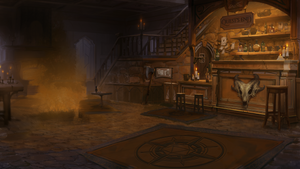 Welcome to the Quest's End Tavern, a meeting place for any itinerant wanderers in search of a strong pour, a crackling fire, and the company of kindred souls. It will also serve as the online home for of Dawn of the Unbound Gods, our all-new fantasy saga premiering with Quest's End Paladin.
The Tavern isn't open yet, but feel free to set the scene with the pleasant sounds of an evening spent imbibing with friends — or at least it was pleasant, until the orcs showed up.
Thank you for visiting the Quest's End Tavern. We look forward to seeing you again when we're open for business!